VERA News
Details
The VERA SMC has received an invitation to run an event in conjunction with a carriage driving club from Gippsland who are putting on a mini enduro event from the Alberton Recreation Reserve in 2023.
They are in the early planning stages and have reached out to see if there are any interested Ride Organisers who might like to come on board and run an endurance mini or micro marathon at the same time.
If anyone is interested could you please contact the VERA Secretary, Ellen Prestage and we will put you in touch with the event organisers.
Details
Following on from the great response received from the New to Endurance online seminar VERA will be running another online session on the 27 April 2022. This session will be an introduction to Vet Gate into Hold. This style of vetting will be used at the forthcoming Mia Mia ride and the information contained in the seminar will help those who are unfamiliar with how Vet Gate into Hold (VGIH) is conducted.
The online meeting details are:
Introduction to Vet Gate into Hold Online Seminar
Wed, Apr 27, 2022 7:30 PM - 8:30 PM (AEST)

Please join the meeting from your computer, tablet or smartphone by clicking on the following link:
https://meet.goto.com/888743765

You can also dial in using your phone.
Australia: +61 2 9091 7603

Access Code: 888-743-765
Details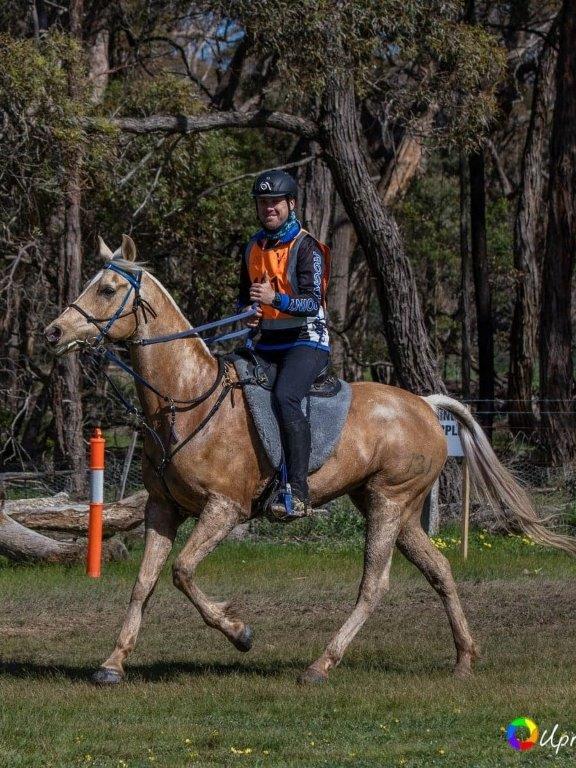 Simon Thomas and Morundah Just Sharii, Victoria's
latest Decade Team partnership.
Details
The same few people are seen providing TPR services at our rides in recent times. They do a great job and we have become very reliant on the generosity of these people. We need to get a few people involved.
Details
The VERA SMC considered the cost of membership following advice received from AERA that price increases would be applied to a number of their charges. These increases are due to the higher than expected cost of the insurance policies required for endurance events.
The costs for all membership categories (Adult Riding, Junior Riding, Intermediate and Association) will, unfortunately, increase by $5. The Family membership, which covers 2 adults and 2 juniors will increase by $10.
Costs for half-yearly membership in the above mentioned membership categories will increase by $5 also. This is because VERA pays the same amount to AERA for half-yearly and full year membership.
Membership Application forms are currently being updated and will be available on the Forms menu of the website in the next few days.