38.1 Riders shall wear:
a) appropriate clothing which presents a smart and professional image for the sport of endurance at all times whilst riding on course, presenting a horse for a veterinary inspection or BC and at the presentation ceremony.
b) the allocated rider bib as the outer most item of clothing. The bib must be clearly visible at all times and shall be worn by the person trotting the horse at all veterinary inspections. (If the strapper is running the horse out at the vet check, they must wear the riders bib/number)
c) A fastened protective equestrian helmet (must be on at all times when mounted) in accordance with the current international equestrian competition standards.   (See below for compliance numbers)
38.2 Riders are recommended to utilise caged safety stirrups if flat heeled riding shoes with a heel less than 1cm in depth are being worn. (For people who choose to ride in runners or similar footwear)
(It is recommended that appropriate footwear should be worn be all people who are around horses at a ride, including in the vet ring, leading/grazing horse and strapping, not just the competitors)

With the AGM approaching on January 21st, 2024 it is time to make available the forms for PROXY voting, for NOMINATING for a position on the SMC and notification of items for consideration under GENERAL BUSINESS.
Please note that the SMC Position Nomination form and item for General Business form are on the same sheet.
The Proxy vote form is separate.
47.1 A novice horse which has not been issued with a novice horse logbook may only enter introductory, intermediate or micro-marathon rides. A novice horse entering an endurance ride or mini-marathon ride must have and utilise its novice horse logbook.
47.2 A novice horse shall not enter an endurance ride where the total distance of the ride is longer than 120 km. (Even if the ride is an elevated ride above this distance, you cannot enter)
47.3 A novice horse may only enter:
a) one ride on any particular day
b) a maximum of 2 endurance or mini-marathon rides in any 22-day period
AERA RULEBOOK – SECTION 1 - GENERAL RULES
Chapter 5. RIDER RULES 26.
CODE OF CONDUCT
26.1 Every participant is under the control of the chief steward whenever they are present on the ride base or on course.
26.2 Every rider and their support personnel shall conduct themselves at all times:
a) in a courteous, respectful and professional manner, and shall expect reciprocal courtesy, respect and professionalism from other persons with whom they interact, and
b) in a manner so as not to bring the Sport of Endurance into disrepute, and
c) in accordance with the AERA Social Media Engagement Rules.
Read more: GENERAL RULES Chapter 5. RIDER RULES 26 CODE OF CONDUCT
46.2 A horse may compete indefinitely at novice horse status subject to Clause 47. (if they do not upgrade, they must compete under the Rules for novice horses)
46.3 To progress from novice status to endurance status, the horse shall have been issued with a novice horse logbook, and utilising that novice horse logbook, successfully completed a minimum of 3 endurance rides in any riding division.
(Application forms are available on the VERA website, Novice logbook fee is $32.00, no other additional registration fee [Annual or lifetime] is required for Novice Horses, at this stage a Veterinary ID or microchip is not required, horse logbooks are only issued to financial members)
UPGRADING TO ENDURANCE STATUS
46.5 The application shall not be processed by the DA unless and until:
a) the requirements of Clause 46.3 have been satisfied, and
b) the application is accompanied by the appropriate novice horse logbook, and
c) a minimum of 90 days has elapsed from the date of the horses first successfully completed endurance ride, and
d) the horse has been identified by a microchip implant, and
e) a complete veterinary identification (including any legible brands at the time of the veterinary inspection) has been completed and lodged with the DA.
(When applying for the upgrade from Novice Horse logbook to Endurance Horse Logbook, the Novice Logbook that has been used for your previous ride results gets a big wide yellow sticker wrapped around it, so it is the same book, sometimes referred to now as a yellow logbook. The logbook will cost $10 for the upgrade along with this you now have to pay either a once only Lifetime payment of $65.00 or an Annual/Yearly payment of $30. If choosing an annual registration, then it is the owner's responsibility to make sure the logbook is sent in earlier enough to receive the annual sticker to be eligible to compete, if choosing Lifetime Registration, the logbook does not have to be sent back in.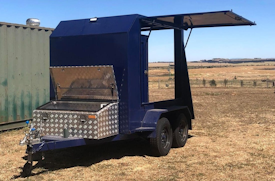 The SMC would like to let you know about the new trailer purchases that have been made this year.
We have had 2 brand new trailers built, these will be able to be all in one stop shop at any ride base if required. There will be room for the ride sec to do entries and all the ride sec work. They will have lights attached, so no more need for hiring of light towers for RO's.
There will be more room for the VERA equipment to be in there, so easier for the RO's to access and use. With the 12V system including solar panels, and batteries required by the RO's can stay charged ready to go.They are still a work in progress as they are getting fitted with 240V power, but once they are up and running, as an RO if you wish to use them as the one stop shop or just to get the equipment to your ride base, the choice is yours.
We can't wait to get them finished, with signwriting on them, and get them out to the RO's and members to see and use next year.
20th January 2024 @ Tabcorp Park.
More information to come soon
30.1 There are no rider riding divisions in introductory, intermediate, training rides, micro-marathon or mini-marathon rides.
30.2 For endurance and marathon rides, riders shall enter and compete in one riding division only according to Table 14.
Table 14   Rider riding division criteria Riding division Criteria
Heavyweight  All-up riding weight of 91 kg or greater
Middleweight All-up riding weight of 73 kg or greater
Lightweight No minimum weight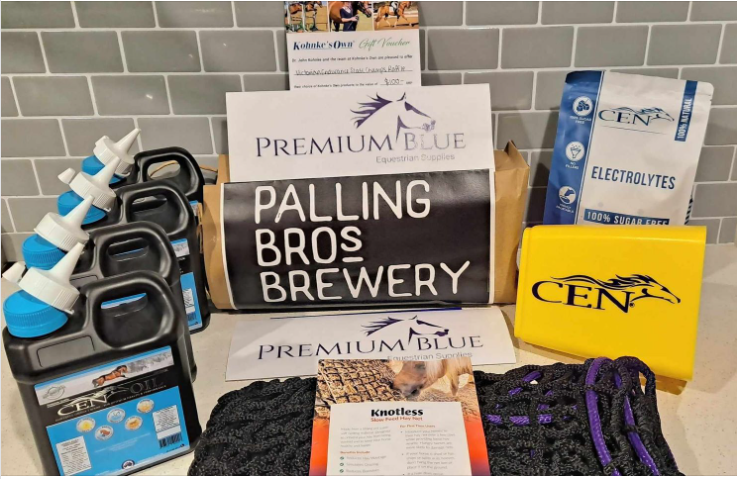 A selection of raffle prizes on offer at the VERA State Champs at Mia Mia.
Including $100 Khonke's Own voucher, 2 x $50 Premium Blue Vouchers, CEN Gift Pack, Gutzbuster medium hay net, Palling Bros Brewery gift pack.
Tix at AERAOnline event page or at the ride!