Tom Quilty
Details
Time certainly flies when you are waiting for a Quilty to come around. With the blink of an eye ,a year has vanished and now it is just over six months before the National Championships , the Tom Quilty Gold Cup .This event will be held from the Collie racecourse from the 18th to the 20th of September.
Our hearts go out to those affected by the Eastern States bushfires and we hope the disruption will not deter too many riders from travelling over to the West. Three rides to date in N.S.W. have been cancelled and there may be more due to the unfavourable events related from the fires.
Details
Quilty 2020 News by Amanda Rayner
The Tom Quilty Gold Cup committee comprises 25 WAERA members that are experienced at their respective portfolios and are dedicated to making the event a success. Many of the members have experience at previously hosting this National event.
Formal meetings of the committee commenced in November 2018 and continue monthly to plan the event.
Several of the members live in Collie or close proximity to the town allowing local knowledge of the countryside and townsfolk to be extremely beneficial in the organisation.
Details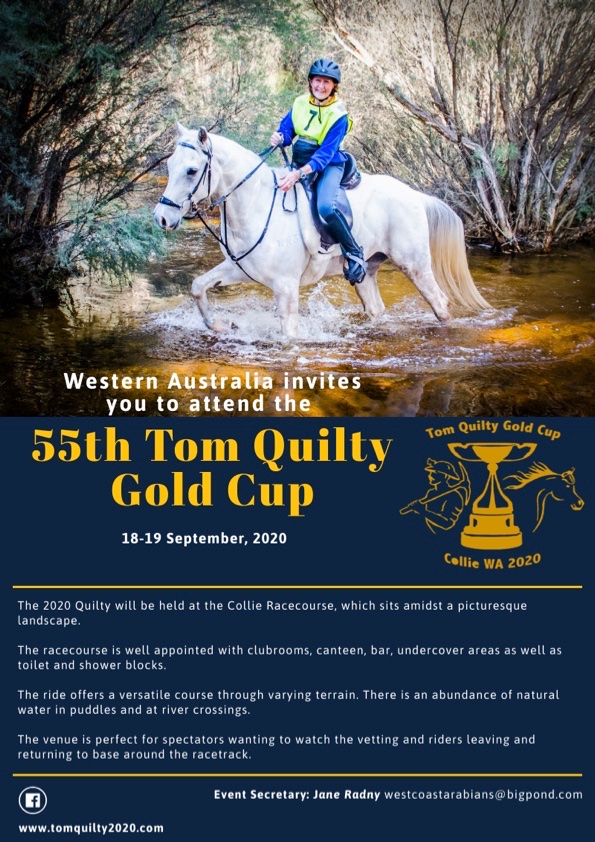 Details
The VERA SMC would like to congratulate the following horse and rider combinations for being selected onto the VERA Quilty Team 2019:
Wendy Riha and Bullio Gebreselassie

Tanya Beacham and Creswick Magdaleenah

Kim Noble and Mizzi Cougar

Renee Henry on Cadenza Supernatural
Details
The VERA SMC is looking for people who are interested in nominating for the VERA State team to compete at the 2019 Tom Quilty event in Queensland. Attached is the Tom Quilty Gold Cup State Team policy outlining the requirements for nominating and the responsibilities of being considered as a part of the team. As yet, a determination has not been made as to how many Victorian teams that will be entered as this will be dependent upon the number of nominations received.